Josef Inwald, Rudolfova Hut category is used for those items that were in production before World War 2. Most items are also listed under Rudolfova Hut or other Sklo Union factories that also produced originally Inwald products.
Manufacturer:
Select manufacturer
Results 1 - 10 of 14

Inwald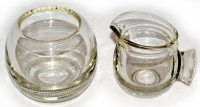 Clear Bowl 95ø 82h 450g Jug 95 l 67...